What are we?
Britannia is a rare example of the type of village which once served the thriving fishing industry with its canneries, boatyards, stores, homes and its mix of cultures. This national historic site is representative of the diverse community built on pilings and connected by boardwalks.
Who Are We?
The purpose of the Society is to preserve and promote West Coast maritime heritage with an emphasis on local wooden boat building traditions and the cultural mosaic and living conditions of the people who worked on the Steveston waterfront.


· · · § · · ·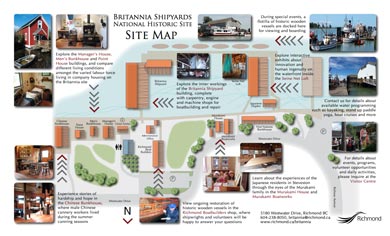 Map of buildings at Britannia Shipyard (pdf file)

Take a 3D tour of some of our buildings!