Site Information
Britannia Shipyards is an authentic representation of a once thriving community of canneries, boat yards, residences and stores.
Many of the buildings date back to 1885 and tell the stories of multi-ethnic residents and workers at the Britannia Cannery and Britannia Shipyards: Chinese, European, First Nations and Japanese. This collection of buildings has national value and was designated a National Historic Site in 1992 by the National Historic Sites and Monuments Board.
During open hours, tour buildings that explore fascinating stories of working and living on the historic waterfront.
What is the Britannia Shipyards National Historic Site Society?
The purpose of the Society is to preserve maritime history, including a working heritage shipyard, as part of a living museum site in Steveston, British Columbia. It also encompasses raising funds for and participating in the operation of such a site, collecting artifacts, photographs and documents, participating in the restoration, preservation and repair of heritage vessels and associated elements of Steveston's history.
The Society's activities include education, research and promoting the general understanding and enjoyment of Canada's West Coast boatbuilding history in an open and accessible park-like setting.

· · · § · · ·
Map of buildings at Britannia Shipyard (pdf file)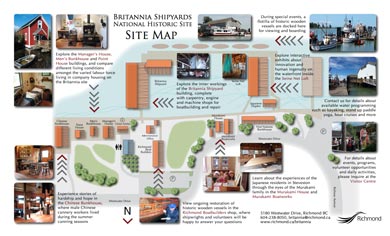 Take a 3D tour of some of our buildings!