Two plus years of work have at last culminated in 'the big reveal' as Larry and Kerry get the last bit of anti-fouling paint applied. The last critical bit of equipment has been re-installed. Radar, radios and galley gear will be done while she floats. In fact, the 6-cyl, 120 HP Ford Lehman diesel engine has not been fired since she last floated so there's plenty of work left to do before we take her out for a real cruise. I doubt she has ever looked so lovely. It's almost a shame to let her get wet. But, that's what boats are for! So, back to her native element.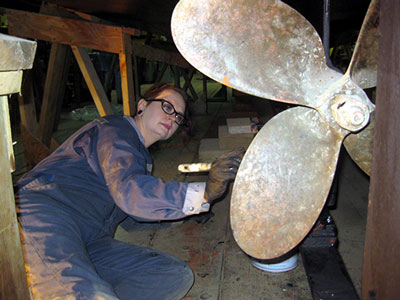 Of course, as in Coleridge's famous poem, 'all the boards did shrink,' and so she took on water at a daunting rate. The bilge pump kept ahead of the ingress so no major worry. None the less, we did have the big, gasoline powered dock pump standing by, primed and ready to go. Kerry drew anchor watch for the first night, Bob for the second.
It was a substantial move, the biggest we've tried in a decade, maybe ever. It went without a hitch. No one yelled, no one broke into a sweat or even mussed their hair. Two sets of Merrilee II's former owners showed up for the splash and both said they were delighted, thrilled even, with the work done on her. Indeed, she looked magnificent.
Tom Plain of Alltow displayed his usual skill and made look easy. That guy can spot his 40 tonne rig and its 40 foot trailer within a quarter inch of his intent, first time, every time. It is a treat to watch him work.