Come learn more about the new Living History Heritage Ambassador Program at the Steveston Historic Sites! Currently the Steveston Historic Sites which include; Britannia Shipyards National Historic Site, the Steveston Tram, the Steveston Museum and London Heritage Farm, are recruiting for Heritage Ambassadors! This volunteer position breaks down the walls of traditional museum and gallery work and encourages and promotes visitor and community engagement through activities, demonstrations and a more hands-on and interactive experience.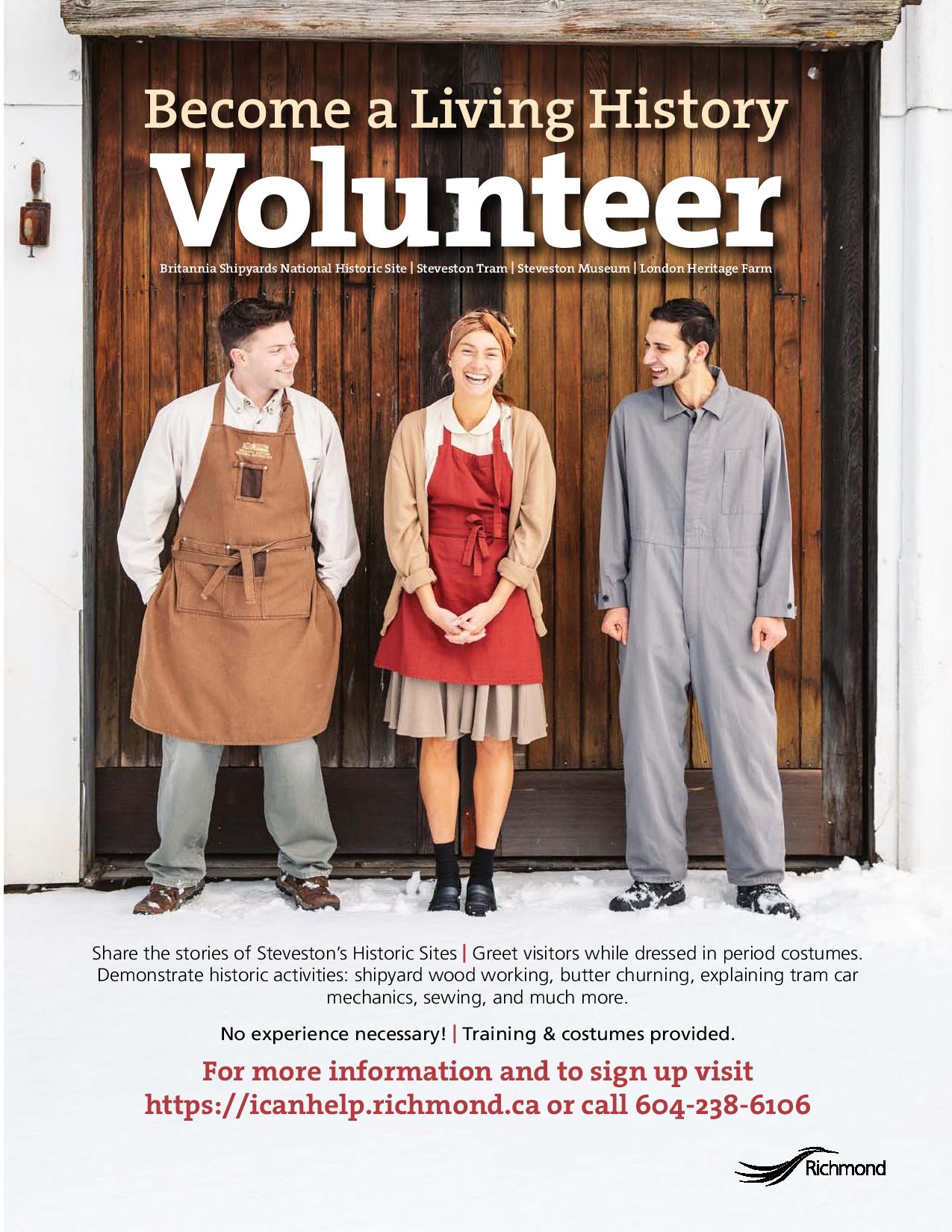 Here you will help share the stories of those who once lived and worked here, while demonstrating activities that would've taken place, such as playing cards, Mah Jong or kids games, sewing, embroidery and net mending, butter churning, tram car mechanics and much more! You will be dressed in period dress.
No experience is necessary. Training and costume is provided. Volunteers won't be acting/in character however a love for theater and performance is always a bonus. Volunteers must be at least 14 years old, have excellent communication skills and be willing to learn and share their knowledge and enthusiasm with the public!
We will be hosting some training sessions coming up where we will be going over more in depth about this incredible opportunity and what types of volunteer activities you are able to take part in as well as some general FAQ's. To learn more or if you have any questions please feel free to reach out and email shsvolunteers@richmond.ca or by phone at 604-238-6106.
March 21st – Heritage Ambassador Training Session for Britannia Shipyards @ 12:30pm – 2:00pm ( CBH )
March 21st – Heritage Ambassador Training Session for Steveston Tram & Museum @ 3:00pm – 4:30pm ( Tram Meeting Room )
May 2nd – Living History – Heritage Ambassador Orientation @ 1:00pm – 2:30pm (at Britannia in MBW )
May 9th – Heritage Ambassador Training Session for Britannia Shipyards @ 12:30pm – 2:00pm ( MBW )
May 9th – Heritage Ambassador Training Session for the Steveston Tram & Museum @ 3:00pm – 4:30pm ( Tram Meeting Room )