Get ready for the holiday season with Winter in the Village!
Between November 21 and December 31 Steveston Village will become a destination for those looking to enjoy the holidays and participate in a number of winter activities.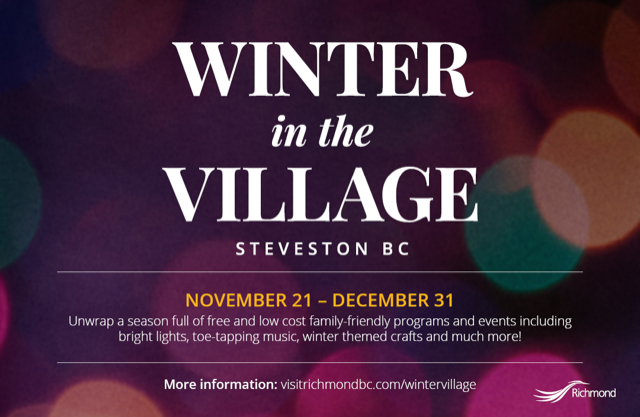 Britannia Shipyards will be celebrating Winter in the Village with ongoing activities and special events.
Every day, join us in creating a special holiday memento by decorating a wooden ornament for your Christmas tree. Meanwhile, kids (12 and under) can try their hand at the Steveston History Hunters Scavenger Hunt. We invite everyone to come and see the Heritage Building Light Display in the evenings.
The Winter Concert will be held December 1, 1:00-2:30pm. Buy your ticket at the door or register in advance by calling the City of Richmond Registration Call Centre at 604-276-4300.
Get some holiday shopping done at the Heritage Christmas Craft Fair on December 7, 11:00-4:00pm.
Visit Tourism Richmond's website below for more information:
https://www.visitrichmondbc.com/winter-in-the-village/?utm_campaign=wintervillage&utm_source=redirect